As our population increases, an energy deficit becomes increasingly problematic for many countries, but now that we are able to extract energy from mass amounts of waste, the only real issue remaining, is its effect on the environment. Waste composition is heterogeneous and leads to the formation of flue gases, which, if not cleaned properly, will cause significant air pollution. The ramifications would be detrimental if HZI Steinmüller  continued these processes without taking into consideration the effects our activities have on the natural world.
We can proudly report that our effective flue gas cleaning systems, have kept the land surrounding our plants free of any toxic substances. Harmful matter such as dioxins, particulate matter, or heavy metals, remain absent from the emissions of our Waste to Energy processes. The regulations imposed on Germany and Europe in recent years have seen a great shift in the Waste to Energy operation. So much in fact, that the plants now produce cleaner emissions than the combustion air.
Maximum Flexibility and Leading Technology
We never cease to strive for ways to ameliorate in accordance with environmental health. In fact, the use of our innovative technology, which was drawn from extensive research and experience in the field, allows us to combine a myriad of tech to meet and even exceed customer demand.
The area surrounding our plants are proven to be clean of any harmful substances – thanks to our innovative flue gas cleaning systems.
WE DEVELOP DESIGN SUPPORT BUILD A CLEANER FUTURE
One Step Further - Energy from Flue Gas
Given our track record in technological breakthroughs, we've taken the liberty of offering individual solutions to demanding customers, allowing for a combination of flue gas cleaning with energy recovery systems, such as condensation.
Providing such an array of innovations has been a journey of technical exploration, yet challenging all the same. HZI Steinmüller offers just the right technology to our customers, providing access to excellent solutions with optimal energy output.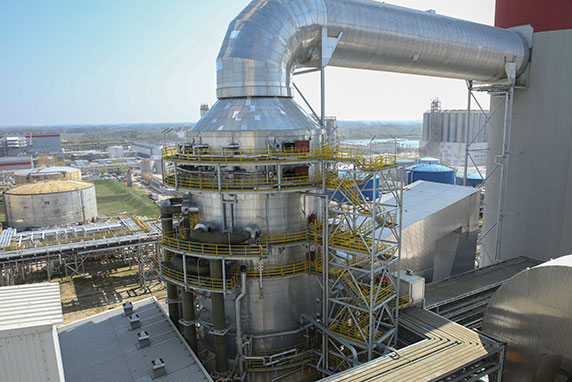 Core Technologies of Our Flue Gas Cleaning
Dedusting
Fabric filter
Electrostatic precipitator
Wet electrostatic precipitator
Separation of acidic gaseous pollutants
Combined scrubbing systems based on lime products or sodium hydroxide
Spray absorption with lime milk
Conditioned dry scrubbing with slaked lime (CIRCUSORB®)
Dry scrubbing with sodium bicarbonate
Combined scrubbing processes
Removal of heavy metals and organic compounds
Injection of activated carbon
Activated carbon fixed-bed adsorber
Catalytic dioxin removal
Denitrification
SCR process for catalytic reduction in NOx emissions, as both "High Dust" and "Low Dust" configurations
SNCR process for non-catalytic reduction in NOx emissions using ammonia or urea solutions
Energy Recovery Systems
Downstream economiser
Heat transfer systems for preheating of combustion air
Flue gas condensation, e.g., for district heating use (optionally with heat pump)
Heat transfer systems within the flue gas cleaning for optimising energy efficiency