Zur Optimierung und Überwachung der Verbrennung in der Anlage wurde das Steinmüller Babcock Active Ignite System entwickelt. Um einen möglichst hohen Wirkungsgrad zu erreichen und Schwachstellen aufzudecken, passt sich das System automatisch an steigende Brennstoffmengen an. Befindet sich zu viel Brennstoff auf dem Rost, wird in der Folge zu viel unverbranntes Material ausgetragen. Dies behindert nicht nur das gesamte Verfahren, sondern steht auch im Widerspruch zu den EU-Richtlinien über die Produktion von wiederverbranntem Abfall und Asche.
Stabilising the burnout edge
Um dieser Belastung entgegenzuwirken, haben wir das Active Ignite System entwickelt, welches sicherstellt, dass das zur Verfügung stehende Verbrennungsmaterial voll ausgenutzt werden kann. Mit Hilfe eines aktiven Reglers wird die spezifische Temperatur und der Dampf erfasst, die Menge des verfügbaren Brennstoffs über Kamerabilder ausgewertet und die Ausbrandkante stabilisiert, um schließlich die Intensität der Verbrennung entsprechend den Messwerten zu regeln. So garantiert das System bei stabiler Dampferzeugung und optimalem Abfalldurchsatz den höchstmöglichen Ausbrand und einen stabilen Prozess.
WIR ENTWICKELN GESTALTEN UNTERSTÜTZEN ERSCHAFFEN DIE ZUKUNFT
Finding solutions for your challenges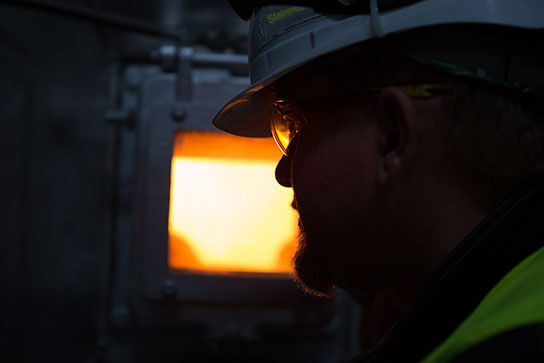 Steinmüller Babcock Environment
Discover our technology
Steinmüller Babcock Environment
Together, we make the world a cleaner place.